Alright, let's get this out of the way: Battle rap ain't for everyone.
Despite the fact that there's an abundance of rappers in the game who fancy themselves lyrical combatants, the fact of the matter is that few actually understand the true nature of the craft.
True battle rappers understand nuance, they understand the importance of research and planning.
This is chess not checkers.
So in this article we will explore rappers who should own this battle rap shit, but, for whatever reason, continuously come up short.
*Note: We're only referring to mainstream rappers and wax battles. Although we will reference live, face-to-face battles, we don't want to confuse any of these emcees with the new, exploding sport of emcee battling (i.e. Smack, URL and KoTD); those guys are insane on a level that far exceeds traditional wax "battling."
---
7. Eminem

HOLD UP! HEAR ME OUT!
I know what you're thinking: Eminem, he's one of the greatest lyricists of all time. He's created some of the most iconic hip hop music and changed the landscape of the entire culture forever. Not only that, but he's absolutely dusted rappers in battle, absolutely DESTROYED them! Of course he's a great battle rapper!
But is he though?
For all of his accomplishments and accolades — many of them entirely deserved — Eminem is a living embodiment of the adage: You're only as good as your competition.
So who were these great emcees that Eminem tested himself against? There was Everlast, Benzino, Insane Clown Posse, Vanilla Ice…should I keep going? Okay, Ja Rule, Nick Cannon… I mean, this isn't a rogue's gallery of ass-kickers here. And he dedicated serious songs to these guys.
I don't know if it was insecurity or what, but Eminem seemed intent on only going against pop music acts who didn't stand a chance against him. I mean, was there really a reason to write a diss song to Mariah Carey? And should one really get credit for that?
Eminem was a bully who picked on people smaller than he was, giving him an asterisk added to every win on his battle record.
How would he have fared against real emcees that dissed him? What about Royce? What about Chino XL? Dilated Peoples? We'll never know, because rather than have a Jay-Z/Nas style battle of the ages, he chose to spend 7 minutes dissing a 40-year-old country-blues singer who hadn't rapped seriously in years.
Sure, I'll give you that in his hey-day, he was a decent live battle rapper. The videos of him ripping through competition at the 1997 Rap Olympics are legendary. But even then, there was always someone better (Juice). Still, I'll give him those props and that's the reason he goes no higher than 7.
Why is he No. 7: To be a great battle rapper, you need to be involved in great battles, and you can't be involved in great battles if you're scared to leave the kiddie pool.
---
6. Ludacris

Doesn't it seem like Ludacris should just know how to battle? Shouldn't he just be awesome at it? He has the voice, the punchlines, the aggression. Dude just comes with a 'Don't fuck with me' type of emcee style.
And he's actually been in a few lyrical scuffles. He's traded barbs with T.I., went at it a little with Drake; so why is he on this list.
Because he didn't actually do shit!
Ludacris is the type of guy who looks like he should be able to fight, but can't. He's like the neighborhood bar brawler, a Kimbo Slice if you will. You would think he would do good in a professional ring until you realize that for all his intimidating physical presence, he's just a very scary looking drunk.
I hope this doesn't come off as a diss, but Luda's bark is waaaay worse than his bite.
Take his skirmish with T.I., for example, Luda didn't win that, he just found a way to appear as if he didn't lose.
For those that don't know, the back-and-forth between the two started in earnest when T.I., Young Buck and Luda were meant to record a song together called "Stomp."
T.I.'s verse in the collabo held pretty thinly veiled attacks on Ludacris, who he had  a dispute with at the time. Young Buck, being the diplomat that he was at the time, took the track to Ludacris and let him listen to the T.I.'s verse.
What followed was one of hip hop's most vicious — and unfair — sneak attack slaughters:
Look, sneak attacks don't win you anything. They definitely don't win you anything when it's apparent that you could square up with your opponent at any moment of your choosing and just…don't.
After "Stomp" was released, fans went crazy but the record companies went into PR mode. Grand Hustle had T.I.'s verse removed and it was replaced by a verse by The Game. And while T.I. and Luda sent subliminal shots at each other for a minute afterwards (some of them were actually pretty good like Luda's War with God), nothing ever materialized from the one-time skirmish.
What we do know is that T.I. would later go on to ABSOLUTELY BODY both Lil' Flip and Shawty Lo. He single-handedly ended their careers lyrically; Luda, on the other hand, beefed with Drake.
And again, nothing ever materialized from it.
Why is he No. 6: Unlike Eminem, Luda never had a decent back-and-forth with another emcee. He never had to respond to accusations and counterattack and that was all due to his inability, or unwillingness to face his foes head on.
Sorry Luda, you're awesome, but if you don't have the balls to lyrically step to a guy who you very well could be better than, then how can you be considered a warrior?
---
5. Freeway
Yeah…this one's kinda self explanatory.
This is also where the people on this list just get really…bad. Eminem and Ludacris are arguable, and many probably believe they don't belong on this list and that's fair.
But there's no denying that anyone who gets as embarrassed as Freeway did, deserves some type of mention here — Because this was horrid:
Why is he No. 5: The problem with Free was that everyone thought he was one of the new "battle guys" in the Roc, even though that role was obviously meant for Beanie. This was a very important role as Jay Z was recruiting help for Nas, Jaz and CamRon.
Jay felt Free was so into the battle thing that he set up the battle between Free and Cass, entirely convinced that battling was something that Freeway just did.
Yeah, no, it wasn't.
Jay unknowingly set Free up for two to the head. The resulting lyrical slaughter will live on in infamy.
---
4. Foxy Brown
Never has a rapper taken as many L's as Foxy Brown.
Sure she lyrically smacked Lil' Kim around, but that's like beating a one-legged man in a ball-kicking contest.
The real issue with Fox is that she has all the mouth and attitude of a premiere female battle rapper (i.e. MC Lyte, Remy Ma, Da Brat, or Lauryn Hill), but the actual skill of…a Foxy Brown.
She's just horrible and she has the L's to prove it.
Now don't get me wrong, everyone catches a loss every now and then, it's life; you win some and you lose some. But she's always losing some and, what's worse, she most often brings the ass-beat upon herself.
Do you know who Jackie-O is? Most people don't, but do know that she smacked the shit out of Foxy Brown and then destroyed her with a diss song:
I'm sure you know about Queen Latifah, right? The positive, conscious-minded goddess of hip hop femininity. Surely, Foxy couldn't bring anything ugly out of her, right?
Wrong!

Queen Latifah — possibly the most female-friendly emcee in hip hop history — was having a bad day. She had been spending a lot of time in Hollywood and she felt that folks were forgetting just where she came from. So she came out with a song called "Name Callin'" where she — in a very vague way — reminded her peers just who the "queen" was.
Now…Foxy could've just let it be. I mean, EVERYONE ELSE DID. But once again, Fox's mouth and attitude wrote a check her ass couldn't cash and responded with 10% dis, where she went at Latifah and, for some reason, Queen Penn.
The sounds of Queen Latifah WTFing could be heard from as far away as the former state of Zaire, where Latifah Ali'd Foxy's non-planning-your-attacks-out ass, ending everything with the aforementioned diss track Name Callin' Part 2.  Fox responded with "Talk to Me," and no one gave a shit. Damn.
Why is she No. 4: Lord have mercy these are some mighty big L's. Unlike the guys before her, she actively sought out conflict and got rocked! How are you going to start shit that you can't finish. She started shit with Jackie-O, Latifah and….Queen Penn?
Oh, did you know that in response to Fox's 10% dis, Queen Penn whupped that ass?!
---
3. 50 Cent
Let's be clear, 50 Cent is great at beefing, he's just horrible at battling.
And there is a difference. Battling is what emcees do, between each other, to determine who's the better man or woman. Beefing is what street dudes do and it usually ends in bloodshed or violence.
50's really good at that last one. His beefs with Ja Rule and Murder Inc. are legendary. His battles with Jadakiss and Game however, proved that 50 was, and always will be, booty in the rhyme department.
So what, 50 won some and he's lost some, it happens. Why is he on this list and so high?
Why's he No. 3: Because if he wasn't so good at beefing, I don't think he would've "beaten" Ja Rule either.
When 50 was going after Murder Inc., it was war. Every interview, every video, every concert, he was creating a narrative that spread beyond what any one song could do. 50 ran his mouth so much, he basically created a reality that said "Ja Rule sucks," even though, just a year prior, Ja Rule was the hottest thing around.
We'll always remember the 50 Cent/ Ja Rule battle as landing squarely in Fif's favor with the now classic battle track "Back Down." But even WITHOUT that song, it was his ability to hit Ja Rule from the street, on an almost guerrilla level, that helped him come out on top.
If you want proof, check out how he did against Rick Ross.
By the time this battle happened, 50 had had clashes with Fat Joe, Cam'Ron, Puffy and the Lox. And they were all beef. Rarely, rarely, if ever, did 50 drop a diss track that sounded like he cared (because he didn't). "I Run New York" was okay, his Cam diss "Funeral Music" was aight, but neither was anything to write home about. The things that got 50 over was what always got him over, the out-side-of-the-rhyme antics: the beef.
Beef, beef, beef.
So by the time Rick Ross came knocking at 50's door, people were just sick of 50's beef first/rhyme last approach.
In an attempt to destroy Ross the right way — lyrically — 50 dropped two of his best battle tracks to date: "Officer Ricky" and "Tia Told Me." Unfortunately, with all of the bad will he had built up with the culture, he was ultimately ignored.
And although he should have all but destroyed Ross, the former C.O. is still making music today because 50's attempt at hip hop battling was too little, too late.
---
2. Meek Mills
Damnit Meek.
Why are you here, Meek?
You SHOULDN'T be here, Meek.
You were battle tested in the street. You were a heavy in the amateur leagues. You even stepped to a legend: Cassidy.
Sure, you didn't win in the opinion's of most, but you stood up for yourself. This was a shoe-in, a sure thing. It was Drake, Meek.
How in the ever-lovin', blue-balled baby daddy did you lose to DRAKE, Meek?!
Meek Mill is the living embodiment of When Keeping it Real Goes Wrong.
Meek thought he was so "real" by street definition that he was untouchable. And let's be honest, the young bull is as thorough as thorough can get.
Unfortunately, as recent times have shown, street dudes and social media don't mix. There isn't a day that goes by that some guy, who has just finished robbing a bank, can't help but post a selfie of himself with a mouthful of cash talmbout, "I'M ALL THE WAY UP!"
Meek is no different.
I'm sorry Drake didn't tweet your album, but really? This is how you retaliate? Even after Drake dropped "Charged Up." Meek responded with, guess what, a Tweet: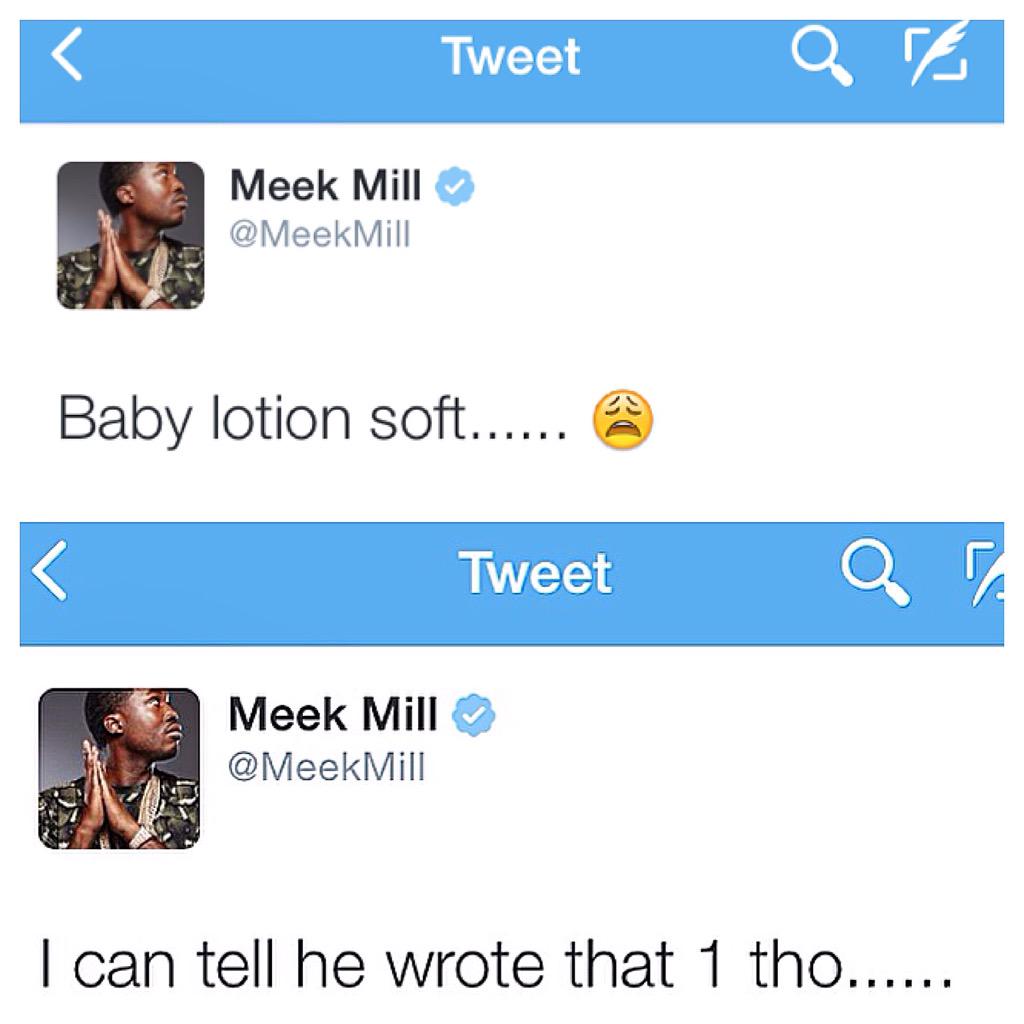 Then Drake dropped Back 2 Back, which was a part of a full battle plan that came with an album cover:
Which came with a backstory, a marketing plan, and the all-around bad intentions of ending another emcee's career.
And just that quick, the Internet that Meek cared so much about, turned on him.
Why's he No. 2:
Here's the thing, Meek isn't some weird anomoly. His response was indicative of today's young emcee. Everyone from Wale to Lupe Fiasco has, for whatever reason, decided that airing out their differences through social media is preferable to getting behind a mic.
Ironic that it would be someone like Drake who would break everyone out of that stupid-assed habit. Poor Meek had to be the sacrifice, I guess.
Meek thought that he could dismiss Drake through social media with hard edged, street-based truth. Unfortunately, he forgot that in hip hop, nothing is stronger than the rhyme.
---
1. Canibus
Okay, okay….lol, calm down Richard. I get it, everyone has a bad day at least once in their lives.
In 2012, Canibus signed on to battle underground battle rap artist Dizaster at King of the Dot's Vendetta event.
To say things didn't go as planned would be an understatement.
For those who don't want to sit through the whole thing, here's the now legendary synopsis: Canibus is shaky the first round, but pulls it off, by the second round he's obviously flustered. After being shellacked by Diz' second round, Canibus all but forfeits, tells the crowd he has a notebook full of rhymes that he'll read instead and — in front of a stunned audience, horrified friends and a facepalming God above — Canibus proceeds to read from his notebook, one painful and awkward line at a time.
So sure, the one time Canibus was asked to show and prove his abilities in front of crowd he totally collapsed. So what? Who cares that he was given months, and months, to prepare and practice? And yeah, so what if he had been paid handsomely to perform and that by being so  unprepared he actually spat in the face of the people who were hosting the event, as well as all of the other battlers on the card including his opponent Dizaster?
Who cares, right?
HIP HOP CARES!
Look, Canibus represents everything that's wrong with some emcees' perception of battle rap. He thought it was a gimmick, he didn't take it seriously. To him it was a pay check. And even if you take into account that he obviously had been in some type of accident, there was no reason he had to show up. Just make a rain check. Refund the money. But don't show up and just bomb like that, stopping midway through the battle to pull out a notepad.
The idea that he would think that was appropriate means that he'd never been in a live battle situation before. You mean he didn't have any reserve rhymes? He didn't have some go-to rhymes that he could pull out? Even if they were old and pre-used, anything would've been better than what he chose to do.
Still, it's only one battle, Why's he No. 1:
Because it's not just this battle, this has been happening his whole career.
Not only did Canibus' battle with LL not have to happen, it SHOULDN'T have happened. It was a no-win situation. LL's a legend! When you battle him you're battling his legacy. And when you have no actual career to back you up, that's a guaranteed L.
Then Canibus actually beefed with Beanie Sigel. Yes, you heard that, Beanie-fuckin'-Sigel. The same guy that, for all intents and purposes, murked Jadakiss. The guy who was as street as one gets in the 90's and little Canibus tried to bow up to him with "Who Ownz U", an easily forgettable track that got ignored and relegated to the 90's beef compilations sold by your neighborhood bootlegger.
Then he started shit with Eminem with the tracks "Stan Lives" and "U Didn't Care." You can argue that Em' may have egged him on with the name drops he had been known to do, but there was no excuse to come at Eminem with this type of bullshit.
Em responded, dropping a joke diss track called "Canibitch" that was both direct and comedic. Canibus responded with…nothing really.
Don't start messaging me the obscure, maybe-he-did-maybe-he-didn't songs that have a line or two possibly directed at Eminem.
Canibus never responded with anything close to "2nd Round KO" to Eminem. Ever.
The dude was never really prepared to go all the way. Whether it was deciding to diss a legend and not being able to follow up; deciding to diss Eminem and not being able to follow up; or deciding to battle Dizaster…and not being able to follow up. Canibus has always had a problem finishing what he agrees to start.
Let's get things clear: He's a very capable emcee.
And that, ladies and gentlemen, is the reason Canibus is No. 1: More than anyone on this list, Canibus is, and should be, the ultimate battle emcee and yet he suuuuuucks at it.
Canibus could've DESTROYED Eminem. He could've really gave Dizaster a run for his money. Hell, he all but fabricated the beef with Beans, so why didn't he have more prepared than a track that was so forgettable its only known now for how forgettable it was.
Sorry 'Bis, but if you're not ready for the fire, don't light the match.
---
Okay, now that the list is over, for any Eminem fans who have been strong enough to last the entirety of the list, thank you.
OBVIOUSLY Eminem is a great battle rapper, OF COURSE it was just click bait. If you can, please lean over to your fellow Eminem-fan friend who is probably shivering on the ground in the fetal position, sweating profusely with rage, and tell him or her that it was all just an over exaggeration.
Thank you.